POST
Gear & Set-Up For Lonely Road 2023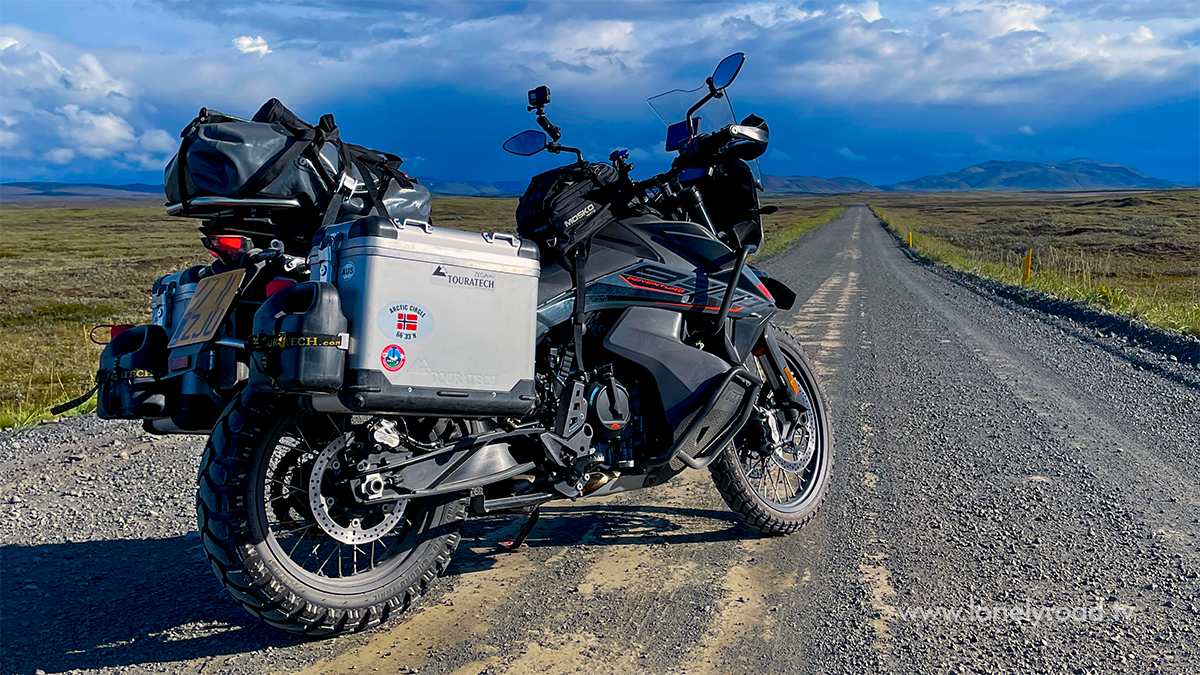 The most important bit of kit for Lonely Road is of course the bike! I'm riding a customised 2021 KTM 890 Adventure. See my full blog post on the bike and its set-up.
All the items on this list were purchased by me with my own money. Lonely Road is not sponsored by any product manufacturers. Some links include participation in affiliate programmes. If you like the gear, you can support the channel by purchasing using these links.
Clothing
For many years I've used Dainese which I've found to be great. Recently I switched my main riding gear to REV'IT, after being impressed with the real-world reviews from other adventure riders I respect. The kit is made up of REV'IT Defender 3 GTX jacket and REV'IT Defender 3 GTX pants.
I chose the Defender 3 line as it provides excellent venting, combined with removable liners (GORE-TEX waterproof and thermal). This provides as much great flexibility to deal with the wide range of conditions you experience on adventure travel.
Even though the jacket and pants include a waterproof liner, I also carry additional raingear for super heavy downpours - a Dainese rain jacket and a pair of Held Cloudburst Waterproof Over-Jeans.
Gloves... I have three pairs to cover all the bases, but which ones I take will depend on the journey. My go-to hot weather gloves are REV'IT Dirt 3. For summer and shoulder season riding, I wear the REV'IT Sand 4 H20, which are light, but still waterproof. My current winter gloves are the Held Cold Champ GORE-TEX.
For boots, my full-height pair are the Forma Terra Evo Dry, which provide the right balance of safety and comfort for my style of riding. I also have a pair of the Forma Adventure Low Dry boots, for use in less demanding touring situations. Both pairs are fully waterproof and extremely comfortable on long journeys.
At present, my main helmet is the adventure world staple, the Arai Tour X4. It's a great helmet, but historically I've always preferred Shoei. My favourite helmet of all time for travel is the Shoei GT Air (original version). Sadly, Shoei dropped the ball when they released the GT Air II, so I switched to Arai. My biggest beef with the GT Air II is the integrated Sena comms platform, but the general prognosis isn't great either. Nothing specifically wrong with Sena, but I have Cardo kit and the design of the helmet means you can't use it effectively on any Shoei helmet that has the Sena mounts. Epic fail Shoei!
Luggage
Many years ago, I purchased a set of Touratech Zega Pro panniers. These have been my trusty travel companions on my adventures since. The virtues of hard vs soft luggage are one of the most divisive discussions in the adventure motorcycle world. But as with many things, I think it comes down to preference (and my case, not wanting to shell out big money to replace my existing set-up).
For trips, I use two Touratech Zega Pro 38L panniers. These are kitted out with Touratech Zega Pro Case Lid Bags and inner bags. I have two Touratech 3L Jerry Cans which are mounted on the back, bring my fuel capacity to 26 litres or about 570km range.
The hard case set-up up is complimented with a Mosko Moto Nomax tank bag, and for extended trips, a Mosko Moto 30L Backcountry Duffle, strapped to the tail.
I also bought a cheap-arse tool box off eBay which mounts on the inside of the Touratech pannier racks and is large enough for my main tools. Touratech make a metal version, which sells for around €167! The eBay version is plastic, but at £25 I have no complaints!
Camera gear
Much of my early stuff was shot with a Sony A1E HDV pro camcorder, and later with ReplayXD bulletcams (before the company went bust). Today my videography setup comprises a GoPro Hero 11 Black, two older GoPro Hero 8 Blacks, and a Panasonic Lumix GH4 DSLR. Drone shots come courtesy of a DJI Mavic Air 2, and the whole lot is complimented by the very capable camera on my iPhone 12 Pro.
I use a range of RAM mounts to position the GoPros on the bike, plus an ever-adaptable magic arm. I also carry a Manfrotto Compact Xtreme monopod, which extends to 1.3 metres and doubles as a selfie stick, and a compact Amazon Basics 60-Inch Lightweight Tripod for static shots. Helmetcam is achieved via a Dango Design Gripper mount. I've never been a fan of having a camera mounted on the top or side of my helmet. I also think the chin mount provides the best POV angle.
Miscellaneous
For navigation on long trips, I use a Garmin Zumo XT motorcycle GPS, with a combination of Garmin and Open Streetmap maps. To prevent opportunistic theft at petrol stations etc, I've added a Zumolock XT to the mount. The GPS is also kitted out with an excellent bumper case to prevent accidental damage.
To ensure I travel on the best roads, I map my routes using MyRouteapp to create GPX (waypoint) files which can be imported into the Zumo. For local travel in countries where mobile roaming data isn't prohibitively expensive, I also use Waze on my iPhone.
For safety and peace of mind, I carry a Garmin InReach Mini 2 satellite communicator. This pairs with the Zumo XT to provide a nicer and easier to use interface than the tiny in-built screen. The subscription means I can access support in an emergency anywhere in the world.
To connect to GPS instructions and music, I use a Cardo Pactalk Edge comms system. This supports Cardo mesh and also Bluetooth, so can generally be connected to any other riders when the need arises. For me Cardo just wins on form factor, interface, and the fact that it's fully waterproof (unlike Sena!).
For tyre situations I carry an Eastbound Tools Tyre-Pro Base Kit and a Vastar Portable Air Compressor. I prefer this to the typical 12V portable compressors, as it's smaller and lighter. It also doubles as a 2000mAh battery that can be used to emergency charge my phone or other device via USB. The only thing is you need to remember to keep it charged.
Speaking of phones, my iPhone remains protected and accessible when it's mounted on the handlebars courtesy of a Quad Lock iPhone case and mount. The hard case provides protection and the ability to quickly attached and detach the phone. The mount includes a dampener to protect the phone from harmful vibrations.
Bike security is provided by a generic shock/movement tracker, purchased from AliExpress for about £25. The tracker is basically a mobile phone without the screen and audio capabilities. When armed, the tracker will send SMS messages to your phone if it detects shocks or movement. Messages contain the current GPS location of the device, and it can be set to auto-track if the bike is moving without you! The main attraction (other than the purchase price) is that it's subscription-free. It does require a SIM card with an active mobile plan to send the messages, but these are very cheap compared to the typical annual subscriptions required by branded trackers.
Physical security is provided by a Urban Security UR10 Disc Lock Alarm. The incredibly loud alarm is triggered when it detects a significant vibration (such as someone touching the bike). This is generally enough to deter most opportunistic thieves and miscreants (and wake me from my slumber when in earshot).