REVIEW
REVIEW: RADE-GARAGE Adventure Rally Windshield for KTM 790-890 Adventure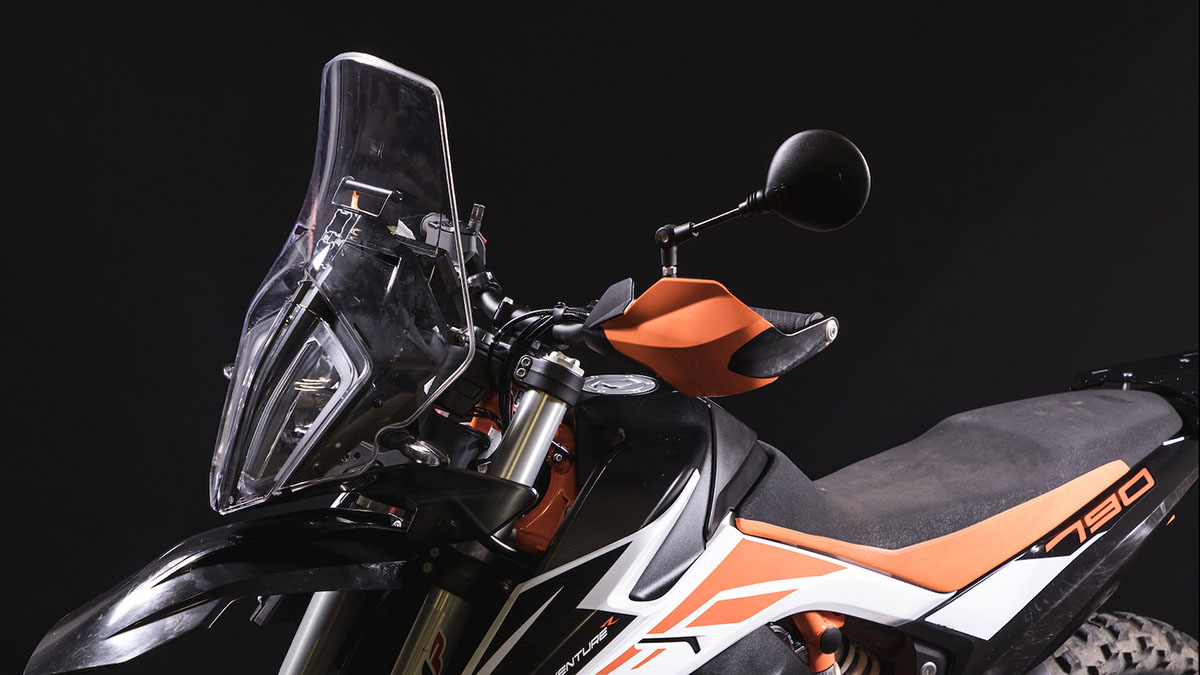 In a nutshell...
A stylish, practical, and effective replacement for the terrible stock screen on your original KTM 790/890 Adventure.
Like
Quick and easy to fit
Upright orientation offers great protection for a small screen
Great rally looks
GPS mounting bar included
Don't Like
Edge finished with plastic tubing that looks like it will come off eventually
Plastic edging makes it impossible to fit any additional spoilers
Installation instructions only in online video
One of my biggest complaints with the otherwise excellent KTM 890 Adventure is that the stock screen on the original version is just downright awful. The fact that the screen on the newer 2022 model bears almost no resemblance is telling.
The original screen has a range of problems. First and foremost, the shape is poor. It's not wide enough on the sides, and the top includes a downward cut-out which seems to be perfect for channelling air into your face. A choice of two fixed mounting points provide very limited adjustability and both place the screen at too shallow an angle. Again, air is pretty much forced straight at you. This can be avoided to some degree by leaning forward and slightly down. But who wants to be doing that for hours at a time when you're off on an adventure?
Sweet Relief
Drawing on their extensive experience designing parts for rally bikes, Czech adventure workshop, RADE/GARAGE, have stepped up to the challenge with a replacement 'rally style' screen for the 790/890 Adventure. Extensive testing across different sizes, angles, and rider body shapes, has resulted in what they believe is an optimal screen for those who don't want to go full height.
Compared to stock, the RADE/GARAGE Adventure Rally Screen sits about half-way between the short option fitted to the Adventure R and the taller screen found on the standard model. But the orientation is considerably more upright than either and much wider on the sides.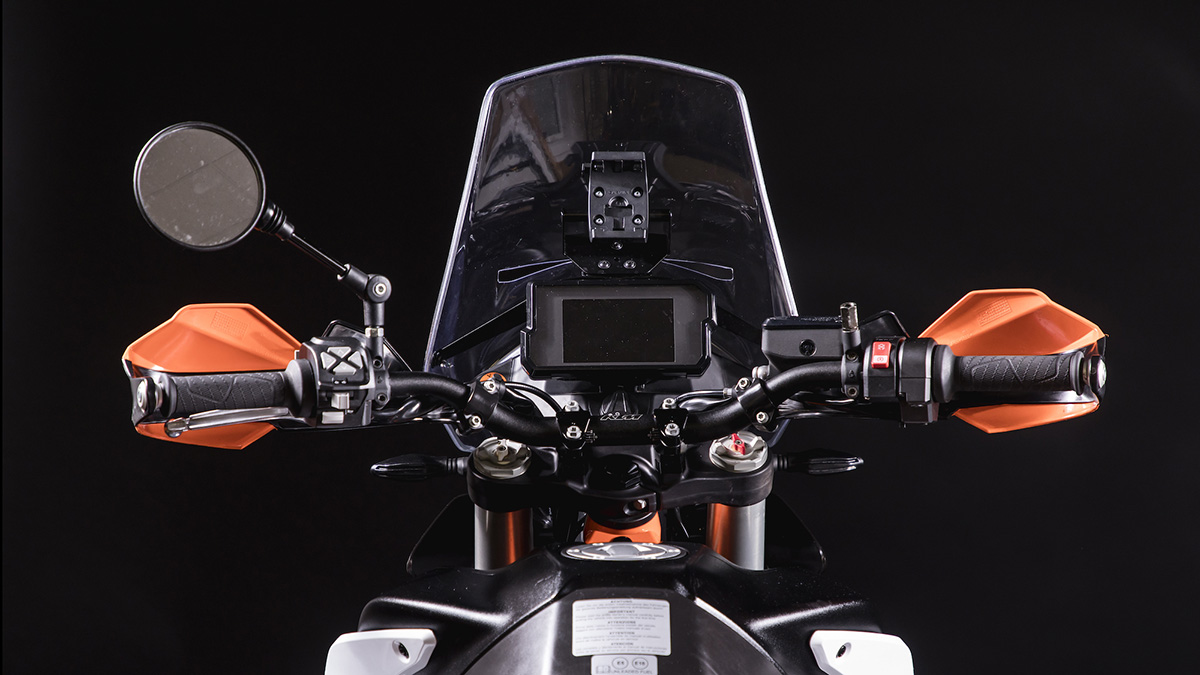 The screen comes with its own support which slots easily into the factory mount on the bike. Fitting is pretty straightforward and took less than 30 minutes. It does necessitate permanently removing the two headlight mask panels, but the shape of the screen allows it to perform their function in terms of managing airflow.
A GPS mount bar is included with the package. Although it's worth mentioning, to complete your GPS mounting, you'll need either RADE/GARAGE's optional GPS adaptor (sold separately) or another type of bar mount (e.g. RAM). Use of the GPS mount bar is completely optional – in my case I already had the KTM PowerParts mount, which works perfectly with the screen.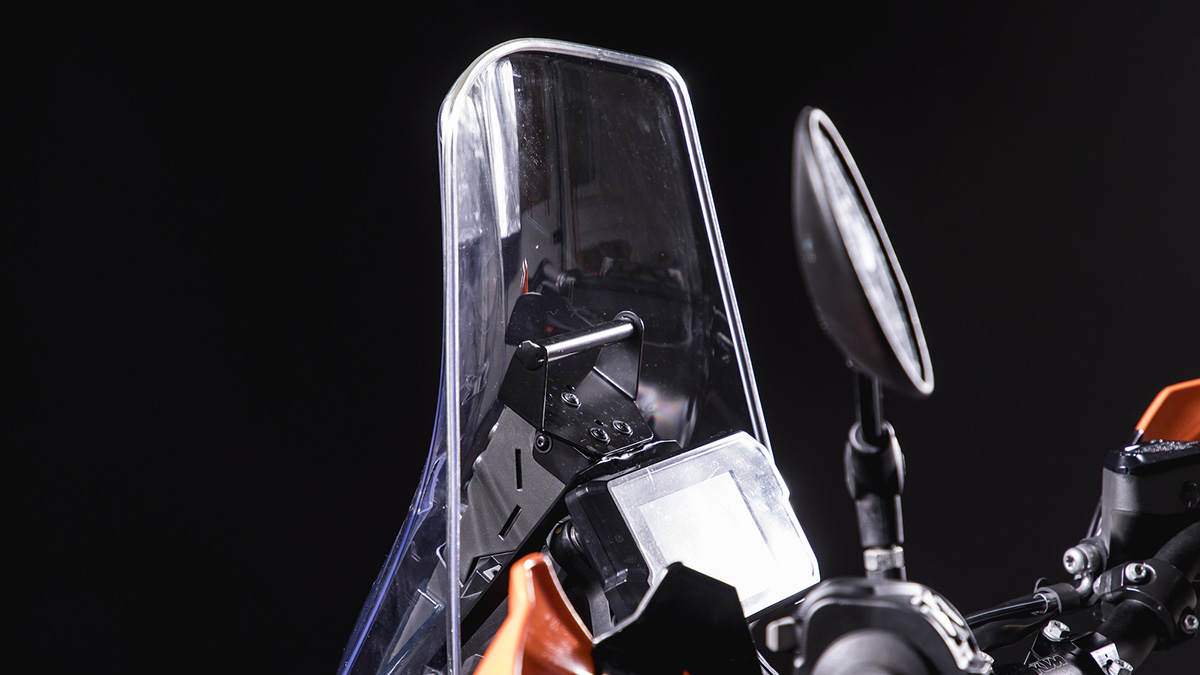 What's Good
The RADE/GARAGE Adventure Rally screen is by far the best I've experienced. Previously I'd tried a bunch of options - mounting the stock screen in both fixed positions, mounting the stock screen on the Puig Manual Elevation Mechanism (M.E.M.), and even a full-size Puig touring screen. None of these options provided anywhere as good wind protection as the RADE/GARAGE Adventure Rally screen.
Despite being smaller than stock and Puig's offerings, the wind protection is great. I put this down to a much better shape and more upright position. Indeed, the new screen on the 2022 KTM 890 Adventure looks suspiciously like the one RADE/GARAGE created. Wider sides and a convex top create much better airflow. The screen itself is solid plastic and does not flex or wobble. Even at high speeds, with a peaked helmet, I experienced no buffeting or exceptional wind noise.
The screen also looks great. The rally style is more in keeping with the overall looks of the bike, particularly the Adventure R version. But it's practical too. The more vertical position really opens up the cockpit, providing plenty of space for your GPS and other accessories.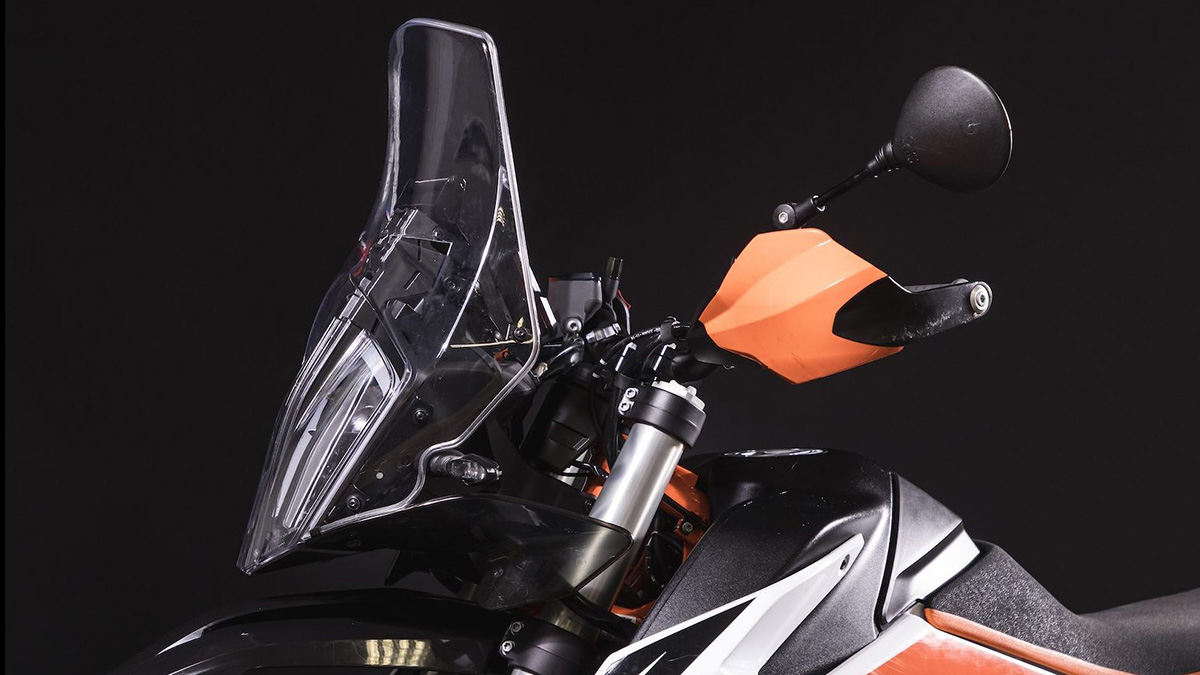 What's not so good
If I had a main gripe about this screen, it would be that the edges are finished with a plastic tube trim. It looks solid, but my suspicion is it will likely come loose after a bit of offroad punishment and may lose its shape around the contours of the screen. Time will tell, I guess. Either way, it would be better if RADE/GARAGE had just cast the edge shape in the plastic of the screen itself.
Update 15-Oct-2023 - as suspected, the plastic trim has proved flimsy. In warmer weather, it softens up (thereby gripping less). A ride into a stiff breeze on a warm day was enough to dislodge it. A negative mark against an otherwise excellent product.
Another minor issue is this trim all but rules out being able to fine tune your airflow with a spoiler. It's not something you'd want to use on the trails, but if you have long motorway rides to get to interesting places, having the option to fit a spoiler is nice.
RADE/GARAGE also say that the Adventure Rally Screen is compatible with KTM PowerParts and Touratech headlight protectors. My experience with the former is that this is only kind of true. It's a very tight fit.
Lastly - and only a very minor thing - my screen arrived without any installation instructions. While it's pretty straightforward overall, there is some nuance that is useful to know. RADE/GARAGE does provide an installation video on their website which walks you through the process. But having to balance a laptop in the workshop in a position where you can press play and pause is a bit fiddly. The installation video is also missing the step where you need to remove the existing headlight mask panels.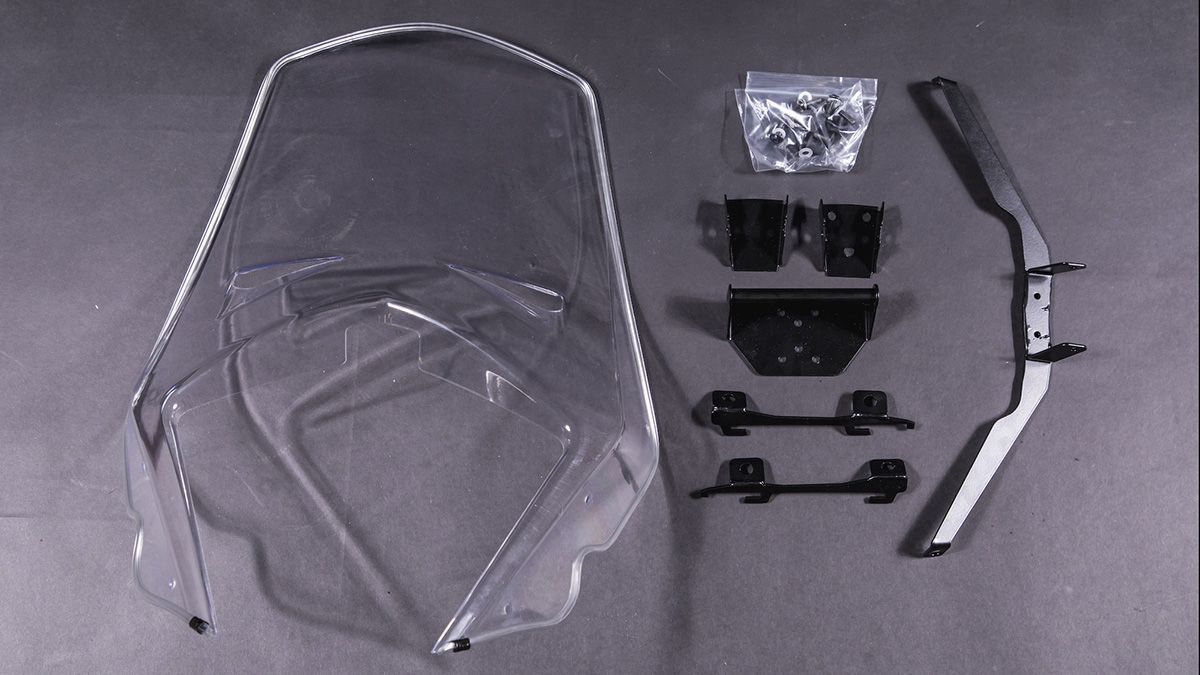 Bottom Line
If you have an original 790/890 Adventure then the RADE/GARAGE Adventure Rally screen is a great replacement for KTM's stock options. At 189€ plus shipping and taxes, it's not the cheapest screen out there, but with the sharp rally looks, vastly superior airflow, and included GPS mount bar, it's a great choice.