REVIEW
REVIEW: Mitas E07+ (Enduro Trail+) Adventure Motorcycle Tyre, Including Mileage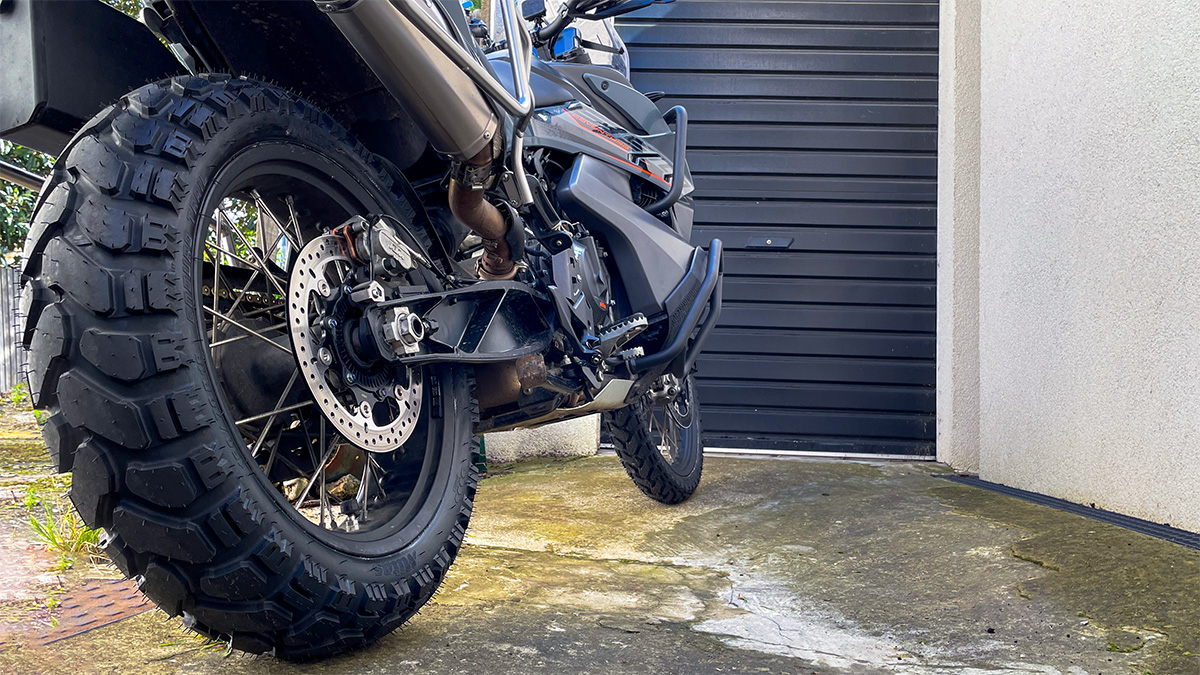 In a nutshell...
Probably one of the best all-round tyres for adventure bikes which spend a decent amount of time on the pavement, but don't want a gnarly trail or muddy rut to end the party.
Like
Rounded profile helps on-road cornering
Large block pattern provides excellent grip on loose surfaces
Low vibration and noise
Excellent mileage great for long trips
Good wet weather performance for a blocky tyre
Don't Like
The market for dual-sport tyres is awash with options. Most manufacturers try to help customers make sense of a tyre's surface capabilities with a percentage ratio of on-road to offroad usage. But the usefulness of this measure is negligible. I mean, a tyre sold as 90/10 (road/offroad) is going to be a 100% road tyre. Likewise, on a 20/80 tyre, you probably want to make sure you're spending most of your time in the dirt. In reality, there should probably only be three categories: road biased, offroad biased, and 50/50. And it's in this last category that the Mitas E07+ lives.
The Mitas Touch
Presumably derived, based on the naming, from Mitas' long-wearing and well-received workhorse, the E07, the E07+ is positioned as a more road-friendly version. Whereas Mitas rates the E07 as 50/50, the E07+ is 60/40. I've not ridden on E07s, but I understand the compound is harder and the profile squarer. The former provides the legendary longevity, while the latter makes the on-pavement ride a little less comfortable. To achieve its claimed 10% bump in road bias, the E07+ has a much more rounded profile and larger block pattern.
I've now been through one front and two rear E07+ tyres on my KTM 890 Adventure, covering a range of road surfaces, from UK motorways and Welsh trails to German autobahns and Iceland's notorious mountain "F" roads. Plus, plenty in between.
By way of comparison, I also have experience riding variable terrain on large adventure bikes with Heidenau K60 Scouts and Metzler Karoo 3s.
What's Good
Firstly, and probably of most interest to those of us without massive backcountry terrain nearby, is road performance. In this department, the E07+ is excellent. They deliver full confidence in the dry twisties - certainly to a level you'd expect riding a mid-weight adventure bike - and I've not encountered any issues in the wet either.
Indeed, wet weather performance is something that Mitas highlights as an advantage of the E07+ compared to other 50/50 tyres. I'd certainly agree. Of course, you always need to take it easier in such conditions, but at no time in the wet of Wales, England, or Iceland, did the tyres rock my confidence.
Offroad and again things are great. I don't tend to ride really gnarly terrain, but for everything from forestry trails through to rutted and rocky tracks, they've performed well for someone at my level. Traction hasn't been an issue and I've been able to power through muddy ruts, shallow rivers, and sandy runs. The tyres are M+S (mud and snow) rated, although I haven't had an opportunity to test them in very deep mud or on snow.
In terms of road noise and vibrations, the E07+s are very good for a dual-purpose tyre. As you'd expect, there is certainly more vibration than a fully-road tyre, such as the stock Avon Trailriders which came with my KTM, but it's only a slight jump and quickly forgotten. It's mainly noticeable at low speeds on pavement, but even then, it's fairly minor. And I haven't noticed any significant additional noise from the tyres at high speed.
What's Not Good
I've really found it hard to fault the tyres themselves, so my biggest gripe is actually reserved for Mitas' marketing department. Originally, these tyres were named "E07+", which already caused confusion with the 'standard' E07 model. And then there's the variance in the way the product name is displayed across retailers. Variants include "E07+", "E07 +" and "E07 plus", complicating a Google search for the tyre.
Mitas seems to have belatedly realised this and going forward the tyre will be known as "Enduro Trail+". Of course, this solves the first name-confusion issue, while continuing the others. And further complicating the mix, as the E07+ has been around for several years and customers are familiar with it, retailers have been designating the tyres "E07+ Enduro Trail" to avoid confusion. This nomenclature nightmare contrasts with the excellent product engineering that's gone into making these tyres. Assuming no further name changes, the market should eventually settle on its understanding of what's what. But it does mean you have to look around a lot more when shopping for this tyre.
Mitas E07+ Mileage
When I was initially researching whether to buy the Mitas E07+ it was quite hard to find any detailed real world mileage/wear info online. So, here's my contribution. My milage estimate for the Mitas E07+ is:
     • Front – 16,000km
     • Rear – 13,000km
This is based on the distance the tyres have travelled and the observed wear rate. It also assumes the tyres are run to the point where a small, but usable amount of tread remains. And I mean usable, rather than the legal limit. I swapped mine before they hit that point, but based on the wear rate, I'd project these tyres would get around 21,000km from the front, and 18,000km from the rear if you rode them all the way. Obviously, your own riding style will also affect these numbers.
Front at approximately 14,000km compared to new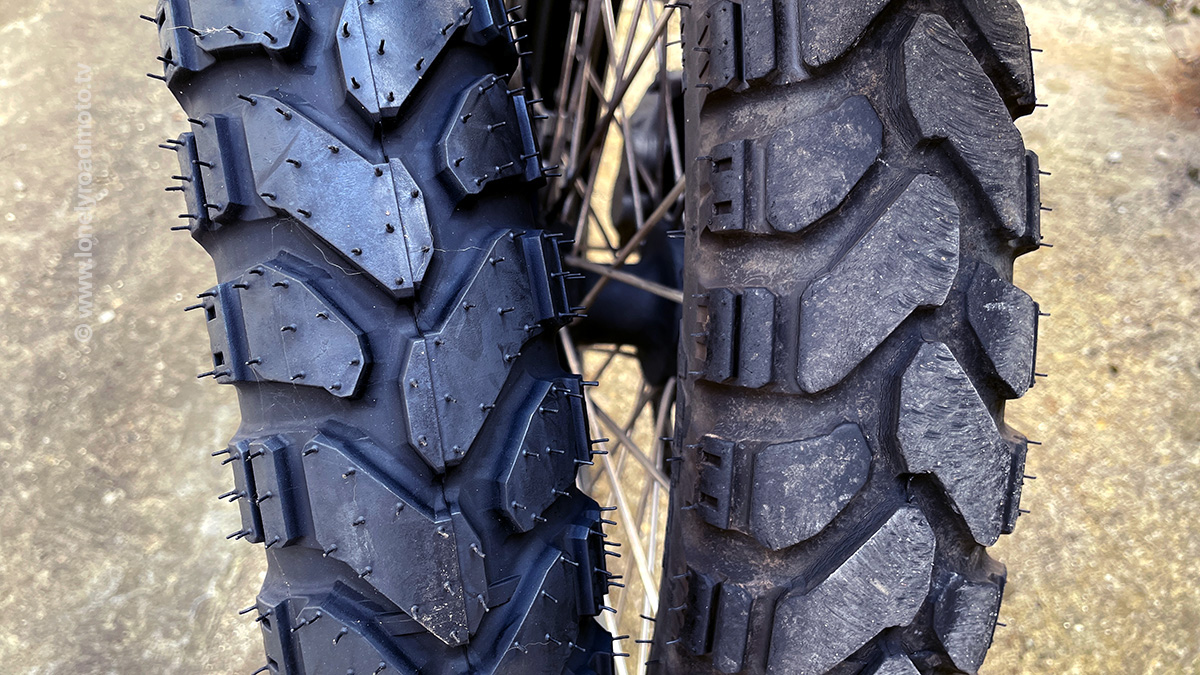 Rear at approximately 11,000km compared to new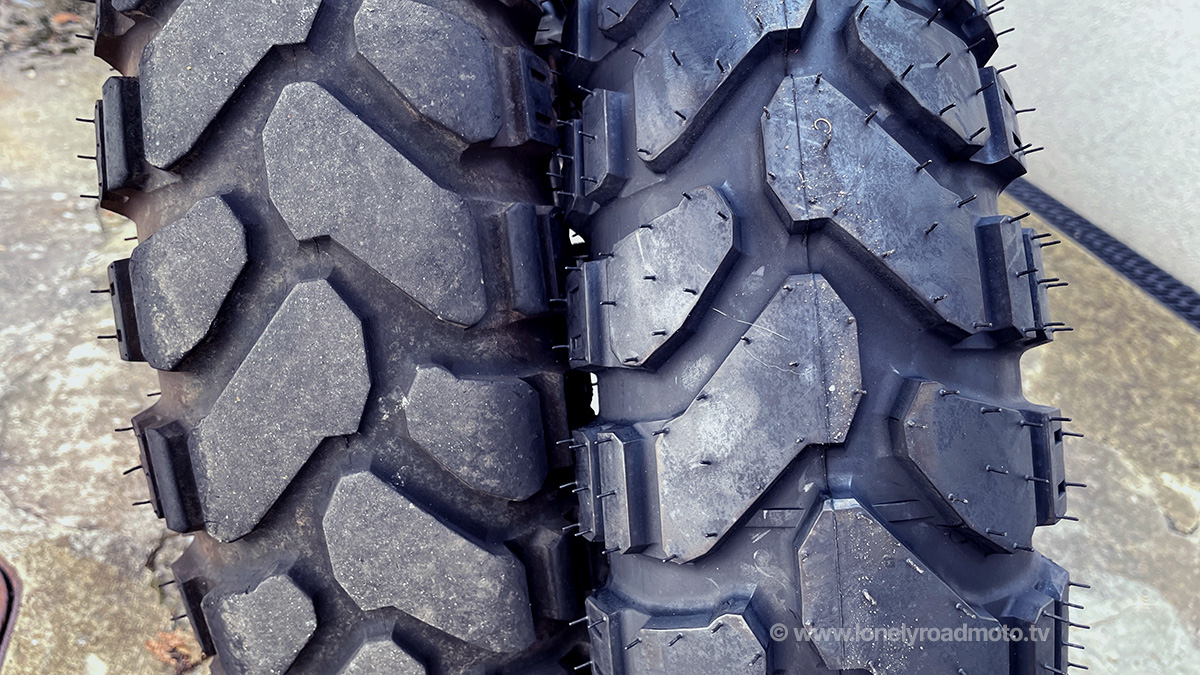 Of course, anyone familiar with the Mitas product lines will know that many of their tyres also come in the yellow strip "Dakar" version. This tyre uses a harder compound, bringing, according to Mitas, around a 20% bump in mileage. But this comes at the expense of wet weather performance. On a long trip, I imagine a couple of thousand extra Ks on the tyres may appeal, but living in the UK, I'd unsurprisingly prioritise wet performance over longevity.
Bottom Line
In my view, the Mitas E07+ is one of the best adventure tyres on the market. KTM seem to agree, as they have decided to make the E07+ (with the Enduro Trail+ naming) the OEM tyre on the 890 Adventure R.
With excellent performance both on and off the pavement, combined with very decent mileage, these tyres have seen me through short and long trips with ease. And the new pair you see in these photos are about to be put through their paces across the varied terrain of South America.